While reading through my list of favorite blogs last night, I came across a new post by these lovely ladies: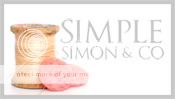 liz and Elizabeth of
Simple Simon & Co
are the ladies behind
Project Run and Play
 and the winners of last season. I am seriously blown away that they chose my 60s inspired outfit as one of their favorites! I was so excited when I saw Erin's picture I literally jumped off the couch in excitement and then called my mom!
So a big thank you to
Simple Simon & Co
for featuring my dress and for making my day!